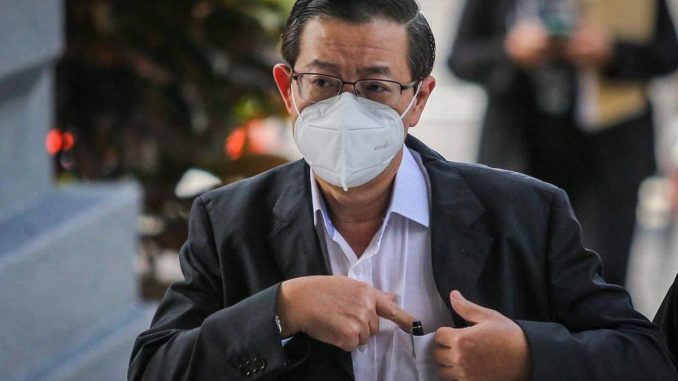 Businessman says Lim smiled after receiving envelope filled with cash.
KUALA LUMPUR – June 23: A developer involved in the Penang undersea tunnel project today revealed how he had passed on envelopes containing cash to Lim Guan Eng at the Penang Chief Minister's office in Komtar.
Datuk Zarul Ahmad Mohd Zulkifli, who is the director of Consortium Zenith Construction Sdn Bhd, said Lim just smiled after receiving the cash filled envelopes.
The 62-year old businessman said the first time he gave money to Lim was sometime during the run-up to Hari Raya in August 2013, and also after the 13th General Election.
Zarul said he gave money to Lim after his company was awarded the three paired roads and undersea tunnel project by the Penang government.
He further revealed that a second payment was made to Lim sometime during the run-up to Chinese New Year in January, 2014.
Zarul said he had gone to Lim's office on the 28th floor of Komtar after making an appointment to see the latter.
"I was not required to sign in the visitors log book when I arrived at the office about 5pm. There was no one else in his office at that time.
"I had brought along RM100,000 cash which I later handed to Lim. I did not tell him how much I had brought but I just said this is for you Sir.
"He did not reject it…he just smiled after taking the A4 sized envelope filled with cash," the key prosecution witness in Lim's graft trial said.
Zarul added he had given the money to Lim to fulfil a promise of giving the chief minister a 10 per cent cut from the profits made by Consortium Zenith after it was awarded the tunnel project.
He explained that such a deal was cut when he was with Lim in a car following a dinner with former minister Datuk Seri Nazri Aziz in March 2011.
He added that the source of his funds was derived from investors in his company including the late Penang tycoon Datuk Ewe Swee Kheng and others.
"I kept part of the funds in cash to be given to Lim," he said.
Zarul was testifying in Lim's corruption trial involving the Penang undersea tunnel project.
The prosecution was conducted by Deputy Public Prosecutor Datuk Wan Shaharuddin Wan Ladin before Sessions Court Judge Azura Alwi.
The trial continues.
SOURCE: https://www.nst.com.my/news/crime-courts/2022/06/807515/businessman-says-lim-smiled-after-receiving-envelope-filled-cash