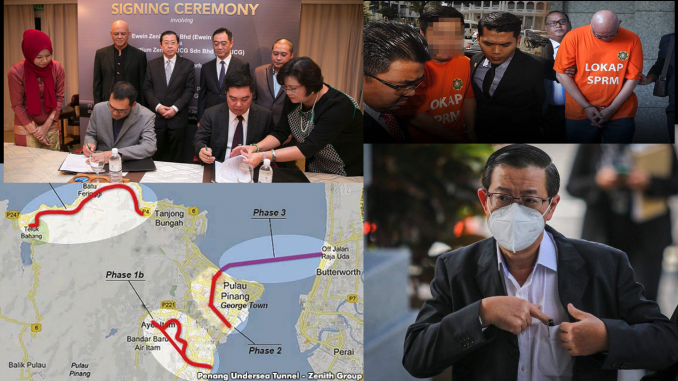 'I fell into depression after controversy over Penang undersea tunnel project erupted'
KUALA LUMPUR – June 23: The owner of a company that was given the RM6.34 billion Penang undersea tunnel project today revealed his company actually just wanted to be a broker but ended up with a windfall after being handed the project.
Consortium Zenith Construction Sdn Bhd director Datuk Zarul Ahmad Mohd Zulkifli said the project had fallen into his company's lap more through direct negotiations instead of open tender as claimed by former chief minister Lim Guan Eng.
He also lamented that he ended up suffering from severe depression after controversy regarding the project erupted in the media.
"I was forced to take medication to calm my thoughts when this issue erupted. I was remanded by the Malaysian Anti-Corruption Commission (MACC) for 11 days.
"Everything that I had worked for to make this project a success was almost destroyed. I was unable to secure bank loans and investors began to shun me."
Zarul said his dreams of becoming a successful Bumiputera entrepreneur were almost crushed but he endured the negative publicity to prove critics wrong.
On how his company ended up getting the project, Zarul said Consortium Zenith was one of 60 companies which had attended a request for proposal (RFP) briefing by the state government before he was called to attend a pre-qualification session in November 2011.
However, he said former state executive council member Lim Hock Seng actually met him on Guan Eng's instructions in May 2011 to brief him on what was needed for the RFP documentation.
Zarul said the meeting with Hock Seng had given him confidence that the project would be awarded to his company based on a direct negotiation basis even though the state government was announcing it as an open tender.
The 62-year-old entrepreneur also revealed that his company did not have the funding to undertake such a mammoth project and was initially only interested in becoming a broker for it.
"All we wanted was a commission and a little work to be awarded to my company. However, after discussing with several investors, we ended up getting the project."
Zarul also touched on his statement which had implicated Guan Eng, adding that he had no ill motives against the DAP politician.
He denied cooking up stories against Guan Eng and maintained that he was only telling the truth about events surrounding the undersea tunnel project.
Zarul was testifying as a key prosecution witness in the corruption trial involving Guan Eng.
The prosecution was conducted by deputy public prosecutor Datuk Wan Shaharuddin Wan Ladin before Sessions Court judge Azura Alwi.
The trial continues.
SOURCE: https://www.nst.com.my/news/crime-courts/2022/06/807553/i-fell-depression-after-controversy-over-penang-undersea-tunnel