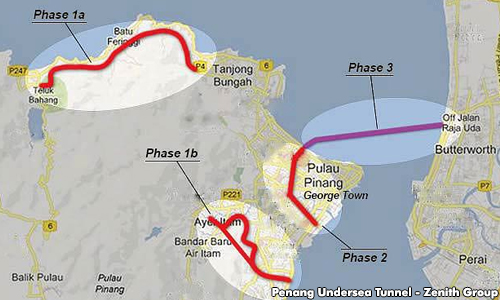 SOURCE: The Vibes | Published on 21 Jan 2021 2:10PM · 
Once state exco, committee clears it, detailed design of mega project will start, says Zairil Khir Johari
GEORGE TOWN – The Penang government wants all matters related to the approval of a feasibility study for the controversial RM6.3 billion undersea tunnel project to be sorted out before the second quarter of this year.
State Transport and Infrastructure Committee chairman Zairil Khir Johari said the project delivery partner for the tunnel and three highways projects, Consortium Zenith Construction (CZC), had completed the study last month.
However, the presentation of the study to the state executive council and technical committee has been postponed due to the implementation of movement control order (MCO).
"It should be presented to the technical committee first, but because of the MCO, there is a slight delay," he said.
"I hope all matters related to this feasibility study can be completed before the second quarter of 2021," he told The Vibes.
"After completing the feasibility study, we will continue with the detailed design of the undersea tunnel."
The feasibility study started in December 2014 and was supposed to be completed in 2016 but had been delayed due to various reasons.
CZC presented the draft feasibility report in September 2019 and it was amended with improvements based on reviews by various agencies.
In July last year, the Malaysian Anti-Corruption Commission (MACC) reopened its investigation into the undersea tunnel project in Penang, following new evidence linked to the matter.
The mega project has courted various objections, particularly involving the RM305 million feasibility study and delay of its original scheduling.
Based on the original plan, the project includes four main components, namely three main roads along a 30km stretch and the undersea tunnel between Gurney Drive on the island and Bagan Ajam on the mainland.