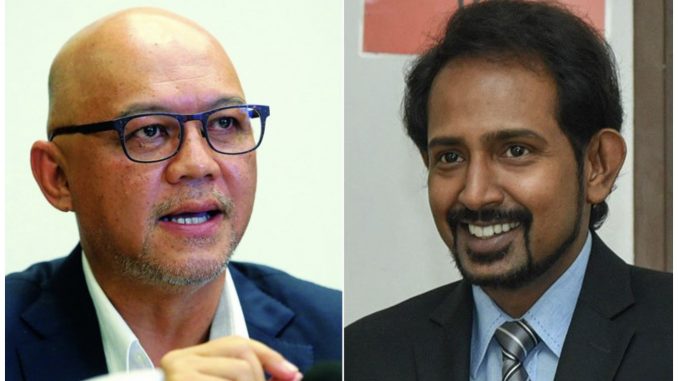 24.9.2021: Court told of a series of WhatsApp messages about arranging a late night meeting with the former Penang chief minister.
'I love you Datuk, you are constantly on my mind'
NST: https://www.nst.com.my/news/crime-courts/2021/09/730334/i-love-you-datuk-you-are-constantly-my-mind
By Sharanjit Singh – September 24, 2021 @ 1:42pm
KUALA LUMPUR: The corruption trial involving Lim Guan Eng today heard how two businessmen linked to the undersea tunnel project had exchanged a series of WhatsApp messages about arranging a late night meeting with the former Penang chief minister.
The text messages between Beijing Urban Construction Group (BUCG) managing director Datuk Zarul Ahmad Mohd Zulkifli and controversial businessman G. Gnanaraja included one which read:
"Superb sir, I bring you chocolates Eastin".
The messages, the court heard, showed close ties between the duo, as they often referred to each other as brother and exchanged pleasantries like "I love you" and "You are my dearest, dearest, dearest friend".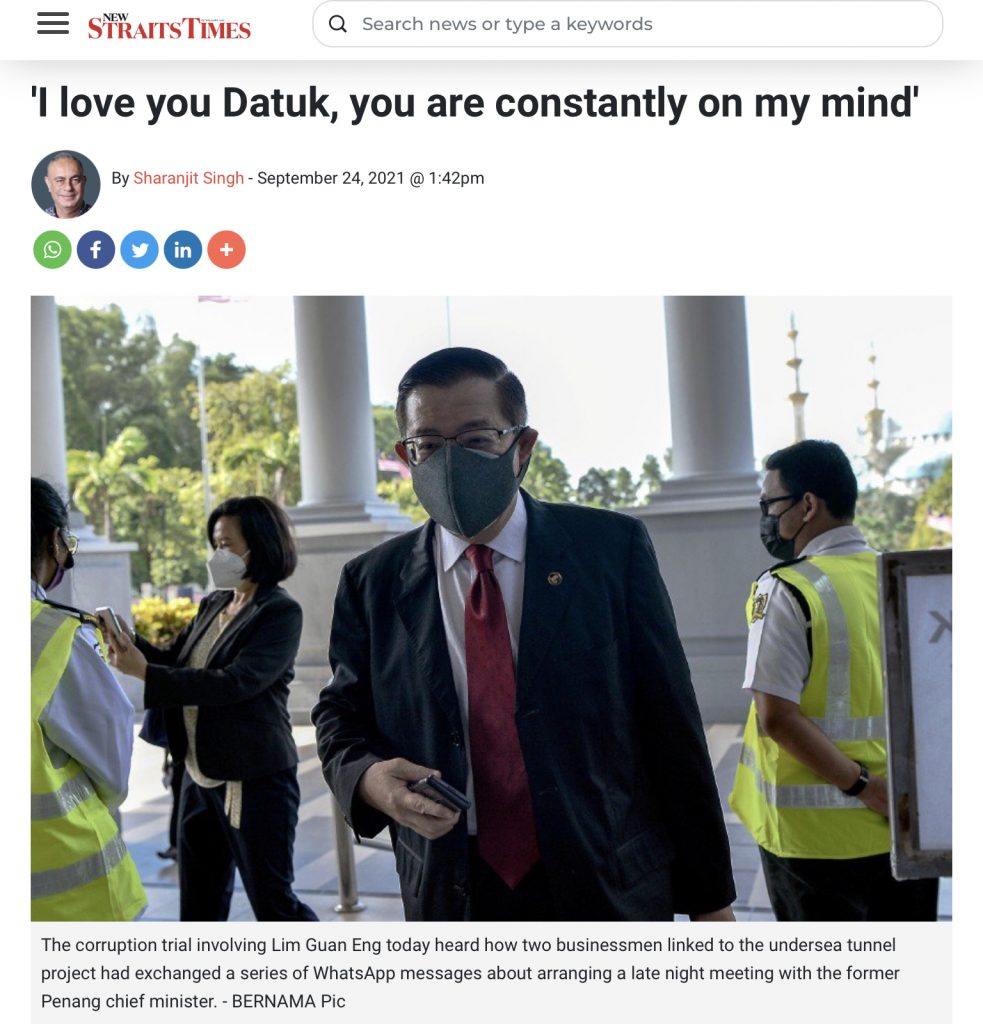 Ironically, Gnanaraja – who is well known as Datuk Seri G or DSG, has since been charged with cheating Zarul and also had his titled revoked by the Pahang Palace in 2019.
The 38-year old has claimed trial to three counts of cheating Zarul in relation to the tunnel project.
He was accused of deceiving Zarul into paying him RM19 million between July and August 2017. Gnanaraja had allegedly promised Zarul to use his connections to help settle an ongoing MACC probe into the consortium, which was the main contractor for the RM6.34 billion project.
Gnanaraja allegedly deceived Zarul into giving him RM2 million in cash in July and August 2017 at Eastin Hotel in Petaling Jaya.
He is also accused on cheating Zarul of RM15 million on July 27, 2017 at the CIMB Bank branch at the Petronas Twin Towers.
LINKED STORY: Who is G Gnanaraja in the Penang undersea tunnel project
Meanwhile, at the trial today, Malaysian Anti Corruption Commission (MACC) forensics department investigation officer Wan Firdaus Wan Yusof testified that he had conducted a forensics test on Gnanaraja's handphone to extract the exchange of messages between the duo.
He read out several of the messages which showed both individuals addressing each other with numerous pleasantries when talking about a planned meeting with Lim at Gnanaraja's house.
When questioned by Deputy Public Prosecutor Wan Shaharuddin Wan Ladin, Firdaus said none of the messages showed any plan by the duo to fix Lim.
He confirmed that the businessman also never talked about giving money to Lim.
Later, when crosss examined by Lim's lead counsel Gobind Singh Deo, Firdaus was referred to another message which Gnanaraja had sent to Zarul which read: "I love you Datuk. You are constantly on my mind. I will finish off anyone who disturbs you."
Gobind: This shows they were really good friends.

Firdaus: Yes.

Gobind: But after all this, Gnanaraja was charged with cheating Zarul.

Firdaus: I am not sure.

Gobind: This case was taken up by the MACC. You don't know that Gnanaraja was charged?

Firdaus: I am not sure.
The trial before Sessions Court Judge Azura Alwi will continue on Nov 1.
The court was today also informed that the prosecution is expected to call former Tourism Minister Datuk Seri Mohamed Nazri Aziz to testify on Nov 5.
FreeMalaysiaToday:

https://www.freemalaysiatoday.com/category/nation/2021/09/24/2-businessmen-didnt-discuss-paying-money-to-guan-eng-macc-officer-tells-court/

The hearing continues from Nov 1 to 5 before judge Azura Alwi. Deputy public prosecutor Wan Shaharuddin Wan Ladin told the court that former minister Nazri Aziz is scheduled to testify on Nov 5, which is one day after Deepavali.

"He told us he is only available that day," he added.
Lim is facing four charges of using his position as the then chief minister to solicit gratification to help Consortium Zenith Construction to secure the tunnel project.
He is alleged to have sought 10 per cent of the profit to be made by the company from its owner, Zarul.
He is also accused of receiving RM3.3 million for himself and causing two plots of land belonging to the state government to be disposed to two companies linked to the tunnel project.
RELATED STORY: Guan Eng corruption trial: Umno's Nazri Aziz to testify as prosecution witness