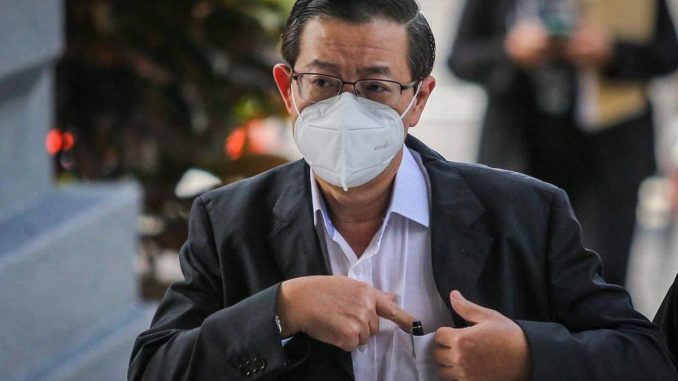 13.7.2021: Witness reveals her husband discussed 'confidential matters' with Guan Eng after 2am
SOURCE: NST Online
By Sharanjit Singh – July 13, 2021 @ 4:39pm
KUALA LUMPUR: The first witness in Lim Guan Eng's undersea tunnel project corruption trial today revealed that the former Penang chief minister had arrived at her house early one morning where confidential matters were discussed with her businessman husband.
The meeting, according to actress cum business woman Datuk K. Geethanjali Gausilia, was held in her house at Section 5, Petaling Jaya. at 2am in August 2017.
Geethanjali, 35, is the wife of controversial businessman G. Gnanaraja – whose Datuk Seri title was revoked by the Pahang palace after he was charged with 68 counts of money laundering involving RM11.4 million in 2019.
Gnanaraja, 38, had also claimed trial to three charges of cheating Consortium Zenith Construction Sdn Bhd managing director Datuk Zarul Mohd Zulkifli of RM19 million by claiming he could settle a Malaysian Anti Corruption Commission's (MACC) investigation into the RM6.3 billion Penang undersea tunnel project.
Pictures of Lim posing with Gnanaraja had been widely circulated in 2018 but Lim's office had then dismissed it as a smear campaign to run him down.
Geethanjali today confirmed Lim had posed for pictures with her, her mother and Gnanaraja after arriving at their house at 2am.
She confirmed that the pictures were taken by Zarul on his mobile phone, and he later sent about six or seven copies to her husband.
Relating the events which happened on that day, Geethanjali said she was woken from her sleep by her husband, who informed her that the VIP guest had arrived in their house.
Geethanjali said she immediately dressed up before waking her mother so that they could greet the YB (Yang Berhormat).
"I knew Lim was the Chief Minister of Penang and that he was a famous politician.
"On that day, Datuk Zarul was also in my house…after I made some empty talk with Lim and served the guests drinks, Zarul took several pictures of my family members posing with Lim.
"All this happened within about 30 minutes…once this was done my husband told me and my mum to leave the room and continue with our sleep. My husband said he needed to discuss some confidential matters with Lim and Zarul."
Geethanjali, however, said she did not know what the trio had discussed as her husband did not share the details with her.
The mother of two, who read from a prepared statement, said Zarul had been to her house several times as he had business dealings with her husband.
However, she said Lim had gone to her house only that one time.
"I did not invite him. I am not his fan and I am also not his supporter.
"I only took the pictures with him because my husband told me to do so…he wanted to keep the pictures as a remembrance," she said.
Earlier, Deputy Public Prosecutor (DPP) Wan Shaharuddin Wan Ladin showed Geethanjali copies of the pictures and she confirmed that they were indeed shots that had been snapped by Zarul.
Wan Shaharuddin: Do you know Lim Guan Eng?. Can you confirm whether he is in this court and can you identify him?

Geethanjali: Yes I know him. He is seated right there in the kandang (dock)
Wan Shaharuddin later started showing Geethanjali the pictures to be identified but as she was in the midst of doing so, Lim's lead counsel Gobind Singh Deo stood up to object.
"Why are they showing all these pictures. It is all drama," he said.
However, Wan Shahruddin shot down Gobind's objection by telling the counsel to be patient as the witness had yet to finish testifying.
Later, Gobind again objected when the DPP wanted Geethanjali to verify that Lim did not have his shoes on and was just wearing his socks in the living room of her house.
"There must be a limit…what is the relevance of asking whether he is just wearing his socks," he said before Wan Shaharuddin continued with his line of questioning.
Wan Shaharuddin: Can you confirm that these are the same pictures taken on the day Lim was at your house?

Geethanjali: Yes these are the pictures
Later, during cross examination Gobind asked Geethanjali if it was normal for politicians to visit her house.
To this, she initially replied that meetings with politicians were usually held at the office but later said politicians had visited her house.
She also agreed that it was a normal thing to take pictures with politicians.
Meanwhile, Gobind also went on the attack when cross examining second prosecution witness Saadon Abdul Samad, who is an MACC Investigation Officer (IO) attached to the forensic unit of the MACC headquarters.
After the 34-year-old finished testifying how he had conducted a forensic analysis of a Sony handphone given to him and recovered several messages and pictures from the device, Gobind asked him if this was done before or after Lim was charged.
To this Saadon replied that based on the dates read out by Gobind, it was after.
Gobind immediately pounded in this and asked Saadon if this showed the prosecution against his client had been done in bad faith.
However, the officer did not agree with the suggestion and said action taken against any accused was always based on investigations that had been conducted.
The trial before Sessions Judge Azura Alwi continues.
Lim is charged with soliciting a bribe from the company awarded the contract to undertake the undersea tunnel project.
The Bagan Member of Parliament (MP) is alleged to have asked for 10 per cent of the potential profits from Zarul and in return, would help Zenith Construction to be appointed to carry out the main roads and tunnels project in Penang.
Lim is also facing charges of abusing his power to obtain RM3.3 million bribe as an inducement to appoint Zarul's company to implement the RM6,341,383,702 three paired roads projects in the state.
The former Finance Minister also faces two more counts of misappropriation of property by disposing two plots of land belonging to the Penang government in Bandar Tanjong Pinang to Ewein Zenith Sdn Bhd and Zenith Urban Development Sdn Bhd – companies linked to the tunnel project.
Lim was accused of committing the offences between 2011 and 2017.
URL: https://www.nst.com.my/news/crime-courts/2021/07/707934/witness-reveals-her-husband-discussed-secret-matters-guan-eng-after