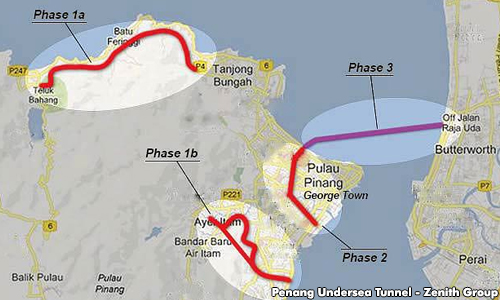 20.8.2021: BUCG had a one-year advantage in open tender for Penang undersea tunnel, court told.
SOURCE: NST
By Sharanjit Singh – August 20, 2021 @ 4:10pm
KUALA LUMPUR: Beijing Urban Construction Group (BUCG), which was awarded the controversial RM6.34 billion undersea tunnel project by the Penang state government under Lim Guan Eng, actually had a one year advantage over others in preparing its Request For Proposal (RFP) through open tender.
This was revealed in the Sessions Court here today by former state economic planning unit (Upen) officer, Muhamad Azrai Mohamad Zaini, who acknowledged that the company officials had attended several meetings with state officials in the run up to the submission of the RFP in 2012.
He said the meetings were held in 2011 and top state officers, including former state Public Works, Public Utilities and Transportation Affairs committee chairman Datuk Lim Hock Seng had discussed with BUCG officials on what was required in the RFP.
Azrai, who was testifying in Guan Eng's corruption trial where the former Penang chief minister is facing four corruption charges, said this when he was questioned by Deputy Public Prosecutor (DPP) Wan Shaharudin Wan Ladin.
Asked if there was any conflict of interest in the meetings between BUCG officials with state officials considering the company intended to bid for the project, Azrai said:
"There will be conflict of interest when a company which bids for the project is also involved in preparing for the RFP (with state officers)."
Asked if it was proper for BUCG to have been involved in such meetings as it was bidding for the project, the 39-year old who was then the assistant director of infrastructure in Upen said it should not have happened.
Wan Shaharudin: What kind of advantage did BUCG get compared to other companies which bid for the project?

Azrai: BUCG got to know from very early the scope of work and terms and conditions which would be imposed on those bidding for the project.

Wan Shaharudin: The RFP for the project was issued in July 2012 but meetings between BUCG and state officials happened from 2011, how long did they have (to prepare for the RFP)

Azrai: Almost one year.

Wan Shaharudin: Why did you not raise this involvement of BUCG in such meetings with your superiors?

Azrai: I was just a junior officer at that time and I assumed that my immediate bosses were also aware of whatever was happening. I therefore did not feel it necessary to report about BUCG's involvement in the meetings.
BUCG is part of the Consortium Zenith BUCG (CZBUCG) joint venture which was eventually awarded the controversial Penang undersea tunnel and three paired roads projects.
The court yesterday heard that no work has started on any of the planned infrastructure apart from some preliminary work on one of the road parcels.
Guan Eng has been accused of seeking and accepting bribes from CZBUCG managing director Datuk Zarul Ahmad Mohd Zulkifli.
At the hearing today, Azrai confirmed that Zarul had attended at least three of the meetings with state officials to discuss the mega project in 2011.
Guan Eng's lawyer Gobind Singh Deo later put Azrai under the hammer over his testimony. The defence counsel questioned the witness on his experience in dealing with RFPs.
To this, Azrai said he had only handled one RFP prior to the undersea tunnel project and it involved the construction of a medical centre in Lorong Selamat, George Town.
Gobind then zoomed in on Azrai's statement that BUCG had an unfair advantage over others when it bid for the project as the company had already attended meetings with state officials.
He suggested to Azrai that the meetings were actually a follow up to the memorandum of understanding which the state government had signed with the company.
The lawyer then managed to get Azrai to agree that there was therefore no issue with such a meeting between both parties to be held.
Gobind also pressed Azrai to agree with his assertion that BUCG would actually not have any advantage in its RFP as one year would have lapsed and not all things which had been discussed would be included.
However, Azrai said BUCG would know what had been proposed and what would be needed in the RFP.
Guan Eng, who is DAP secretary-general, is accused of using his position as the then chief minister to solicit gratification to help CZBUCG secure the tunnel project.
He is alleged to have sought 10 per cent of the profit to be made by the company from Zarul.
He is also accused of using his position as the then chief minister to receive RM3.3 million in gratification for himself as an inducement for helping the company secure the project.
For the third and fourth charges, Guan Eng is accused of causing two plots of land belonging to the Penang government worth RM208.8 million to be disposed of, to two companies linked to the tunnel project.
Guan Eng has pleaded not guilty to all four charges.
The trial before Sessions judge Azura Alwi continues on Sept 10.
NST URL: https://www.nst.com.my/news/crime-courts/2021/08/719691/bucg-had-advantage-open-tender-penang-undersea-tunnel