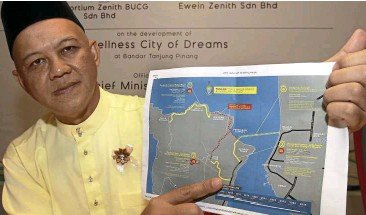 The RM6.3b Penang Undersea Tunnel project has courted much controversy with their high price tag, a whooping RM305m just feasibility study and service bartered for land alone.
October 14, 2013: BFM89.9 interviewed Consortium Zenith's point-man to discuss the project awarded by the Penang State Government to undertake the RM6.3 billion Penang Road and Undersea Tunnel Project. Issues discussed include tender process, environmental impact, toll rates, Ewein's involvement and his BAFIA charge in 1994 by Bank Negara.
February 18, 2016: BFM89.9 looked more closely at the respective roles of the consortium partners, Zenith Construction Bhd and Beijing Urban Construction Group or BUCG.
Zenith's point-man Dato Zarul Ahmad Zulkifli (Chairman, Consortium Zenith BUCG) went live on BFM89.9.
Here are the recordings on BFM89.9:
The October 14, 2013 recording tape.
The February 18, 2016 recording tape or listen to the podcast archive.
Here's the Factsheet Special Page curated by Jeff Ooi.