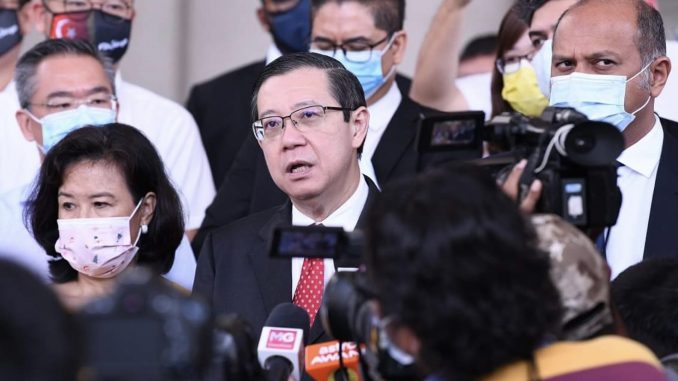 DAP stalwart Lim Guan Eng, 60, former Finance Minister and ex-Penang Chief Minister, will commence trial in June with multiple charges against him related to the high-profile RM6.3 billion Penang Undersea Tunnel project.
It is a widely anticipated that the public prosecutors will parade a spectre of personalities as their crown witnesses.
August 7, 2020: He was charged with one count of bribery for allegedly arranging the receipt of 10% of the future profits of the project as gratification from Datuk Zarul Ahmad Mohd Zulkifli, then the senior executive director of Consortium Zenith Construction Sdn Bhd.
September 11, 2020: Lim was charged on two counts of misappropriation of property for causing two plots of land belonging to the Penang government, worth RM208.8 million, to be disposed of by two companies linked to the undersea tunnel project.
December 23, 2020: He was read two amended charges of corruption involving the Penang Undersea Tunnel project, namely 1) with receiving RM3.3 million as an inducement to help a company secure the project, valued at RM6.3 billion; and 2) for allegedly received the bribe in his capacity as the then Chief Minister of Penang at his office in the Komtar building in George Town, Penang, between January 2011 and August 2017.
The amendment added a timeframe to the accusation, stating that it occurred between 12.30am and 2am near The Gardens Hotel at Lingkaran Syed Putra, Mid Valley City, in Kuala Lumpur. No date was added, with the charge sheet stating only March 2011.
A clause in the charge sheet, which states that he had a direct stake in the undersea tunnel project, was removed.
The original charge on August 7, 2020 was made under Section 16(A)(a) of the Malaysian Anti-Corruption Commission (MACC) Act 2009.
If found guilty, Lim will face a jail term of no more than 20 years and a fine of no less than five times the amount or value of gratification, or RM10,000, whichever is higher.
Lim was represented by lawyers Gobind Singh Deo and Ramkarpal Singh, who are also DAP MPs for Puchong and Bukit Gelugor respectively.
The prosecution was represented by deputy public prosecutors Wan Shaharuddin Wan Ladin and Ahmad Akram Gharib.
The judge set the bail at RM1 million with two sureties and ordered Lim to surrender both his international and diplomatic passports.
Lim's lawyer Gobind Singh Deo applied to have the various charges heard together in one trial before the Kuala Lumpur court, as they originated in both Kuala Lumpur and George Town.