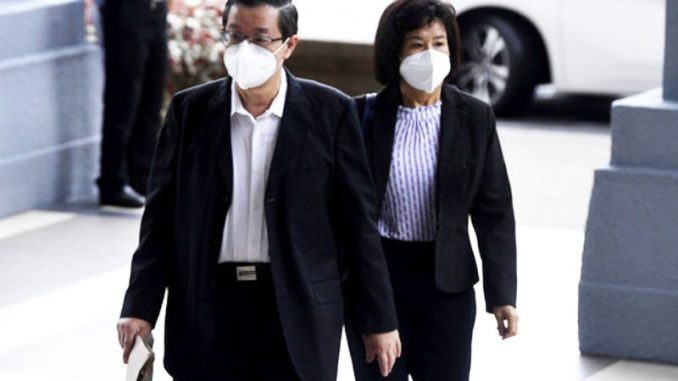 APRIL 1, 2022: Three prosecution witnesses – M Maheswari, S Vijayalakshmi and Ng Wee Kok – who took notes of the Penang executive council meetings in relation to the undersea tunnel project tendered about 30 exhibits as they were the makers of the documents.
Deputy public prosecutor Wan Shaharudin Wan Ladin informed Judge Azura Alwi that former Penang legal adviser Faiza Zulkifli (Witness #11) could not be present to be cross-examined as she was down with Covid-19.
Lim is on trial on charges of using his former position as Penang chief minister to ask Consortium Zenith BUCG Sdn Bhd director Zarul Ahmad Mohd Zulkifli for a 10% cut of the profits from the project, and accepting RM3.3 million in kickbacks from the businessman.
He is also accused of two counts of dishonestly misappropriating RM208.7 million worth of state land to two companies.
Earlier, Lim's defence lawyer, Gobind Singh Deo, complained to sessions court judge Azura that Lim's wife, Betty Chew, was prevented from entering the courtroom to follow the proceeding although she had been present at all the previous hearings.
The hearing of the trial has been adjourned to May 26 as fixed earlier.
NEWS SOURCE: https://www.freemalaysiatoday.com/category/nation/2022/04/01/lims-wife-denied-entry-to-follow-corruption-trial-says-lawyer/