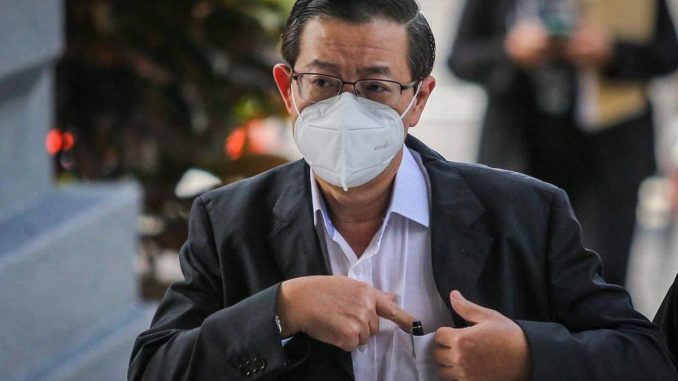 SOURCE: NST ONLINE
By Sharanjit Singh – August 16, 2021 @ 6:35pm
KUALA LUMPUR: Former Penang chief minister Lim Guan Eng did not inform the state executive council (exco) members that he had actually met with the owner of a private company to discuss the undersea tunnel project before they were briefed about it, the Sessions Court heard today.
Former exco member Datuk Lim Hock Seng acknowledged that his former boss did not inform the exco about the meeting which had taken place at the Shangri La hotel.
He said all Guan Eng told the state exco members was that a private company was interested in exploring the project to construct an undersea tunnel connecting the island to the mainland.
However, nothing was mentioned about the meeting at the Shangri La where Guan Eng had already discussed the tunnel project with Consortium Zenith Construction managing director Datuk Zarul Ahmad Mohd Zulkefli.
"He did not tell us about it, except that a company was interested in the project," he said.
Hock Seng, who was previously in charge of state public works, public utilities and transportation affairs portfolio, said Guan Eng later asked him to get in touch with Zarul to manage things.
"He gave me Zarul's phone number and asked me to get in touch with the latter to manage things about the project," he said when testifying in the corruption trial of his former boss.
Hock Seng was replying to a question posed by deputy public prosecutor Wan Shaharuddin Wan Ladin, who wanted to know if the state exco was aware that Guan Eng had actually met and spoken to Zarul about the project before they were informed about it.
During cross examination, Guan Eng's lawyer Gobind Singh Deo asked Hock Seng if there was anything sinister about the instructions given by his client to call Zarul.
To this, Hock Seng said he did not feel so as exco members were constantly asked to look into matters involving their portfolios.
Hock Seng, who is the third prosecution witness, earlier also revealed how a plot of land which had actually been reserved for a Tenaga Nasional Bhd substation was given to Consortium Zenith BUCG (CZBUCG) even though the grant had been issued to TNB.
He said Guan Eng had ordered the state Land and Mines Department to exchange the plot of land, identified as Lot 713, after CZBUCG asked for it.
"Initially CZBUCG wanted the entire 5.7 acres of Lot 713 but a portion of it was already reserved for the TNB substation so the state government rejected it.
"However, Guan Eng later informed the state exco members that he had met with CZBUCG officials on 29 July, 2013 and they agreed to take another plot, Lot 702, and give up a portion of Lot 713 for the TNB substation," he said.
It was previously reported that the piece of prime land was handed over to the company merely after it conducted a feasibility study for the RM6.3 billion Penang undersea tunnel project.
Guan Eng, who is DAP secretary-general, is accused of soliciting a 10 per cent cut in profits from the tunnel project from Zarul and seeking RM3.3 million in kickbacks to appoint Zarul's company to undertake the project.
He also faces two counts of dishonestly misappropriating RM208.7 million worth of state land to two companies.
The trial before Sessions Court Judge Azura Alwi continues on Wednesday.
URL: https://www.nst.com.my/news/crime-courts/2021/08/718465/lim-guan-eng-did-not-inform-exco-about-his-meeting-undersea-tunnel