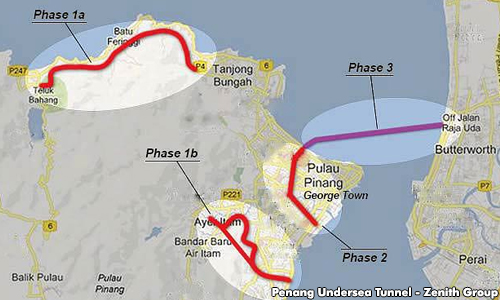 13 of 22 laid off workers claim no compensation paid, but project delivery partner says efforts made to reach compromise
SOURCE: The Vibes | Published on 19 Jul 2021 11:00AM
GEORGE TOWN – Penang Transport Master Plan's controversial undersea tunnel and three related road packages will go ahead as planned, despite the projects being affected due to Covid-19, which led to some workers being laid off, assured the project delivery partner.
Consortium Zenith Construction Sdn Bhd (CZC) director Datuk Lee Chee Hoe said Penang wants the tunnel and road packages on the island to continue.
CZC was last year bought over by Sg Petani-based developer ECK Development Sdn Bhd after senior executive director Datuk Zarul Ahmad Mohd Zulkifli exited the companyfollowing a Malaysian Anti-Corruption Commission probe, in which he is involved.
On claims that 22 workers have not been paid compensation after they were retrenched, Lee said the move was inevitable due to the restructuring.
He stressed, however, that there are efforts to reach a compromise with those affected.
"The project will resume once the pandemic is contained," he said when contacted.
It is learnt that 13 of the 22 employees who were laid off are seeking redress in the industrial court.
A spokesman for the group claimed that the workers were not paid compensation after they were asked to leave – some within 24 hours – earlier this year, following an ownership change at CZC.
The group also alleged that the due process was not observed, according to the spokesman.
"The earlier CZC management apparently wanted a subcontractor to take over since it was familiar with the initial technical work, but the state insisted that another company takes over.
"The reason that the subcontractor was preferred was because the company had indicated that the project would continue on a status quo basis with no retrenchment."
Instead, the spokesman said, Penang insisted on another developer, and within weeks, 22 workers lost their jobs in the midst of a pandemic.
Justice must be served as they worked hard to get the project going despite encountering various complications, the spokesman added.
"We are blaming the state government, who were involved in the restructuring of CZC, as they looked away when jobs were lost."
The spokesman also claimed that one of the road packages, from Tg Bungah to Teluk Bahang, is unlikely to happen due to rising costs and environmental challenges.
State Infrastructure and Transport Committee chairman Zairil Khir Johari had previously said the decision to retrench workers was an internal decision, as the state had no clout to interfere with it.
The 7.2km undersea tunnel is designed to connect Gurney Drive here with Bagan Ajam in Butterworth. The mega project has been opposed by civil society groups and opposition parties for being costly and unfeasible.
Fears of more coastal erosion being triggered amid climate change challenges and concerns of disruptions to operations of nearby Penang Port have also been raised.
Aside from the tunnel, the three road packages comprise a stretch from Air Itam to Tun Dr Lim Chong Eu Expressway (5.7km); Tg Bungah to Teluk Bahang (10.53km); and, Gurney Drive to Tun Dr Lim Chong Eu Expressway (4.1km).
The projects involve land acquisitions, demarcation of new boundaries and substantial hill-cutting to become a reality.
Despite such challenges, Lee said they remain on course, albeit a delay due to the pandemic and movement control orders, which prevent the consultants from undertaking work on-site.
"Let's put the tunnel aside for now, but we are committed with (the construction of) the three roads first."
In another development, Penang PKR vice-chairman Jason Ong said he hopes the state government will reconsider the mega project as it has become burdensome, with hardly anything moving on the ground.
"I think, for now, we should revise our priorities and focus on fighting the virus by protecting lives and jobs, while trying to regrow the economy based on our existing strengths.
"We should also swiftly move to upgrade our value chain and skills."
The Kebun Bunga assemblyman said land shortage and traffic congestion issues can be addressed via a relook at how development policies are conceived in Penang, including exploring the potential of mainland Seberang Prai.