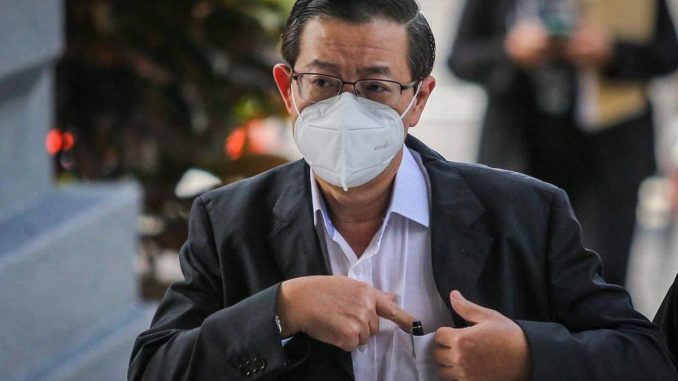 16.7.2021: City of Dreams nightmare for Lim Guan Eng's lawyers
SOURCE: NST ONLINE
By Sharanjit Singh – July 16, 2021 @ 3:33pm
KUALA LUMPUR: The prosecution in Lim Guan Eng's corruption trial today zoomed in on the multi billion ringgit City of Dreams project on state land given to a private developer.
The prime land was handed over to the company merely after it conducted a feasibility study for the Penang undersea tunnel project.
Deputy Public Prosecutors (DPPs) going after the former Penang chief minister and Finance Minister, went on the offensive by questioning a key witness about the project, causing howls of protest from the defence lawyers.
Lim's lawyer Gobind Singh Deo wanted the prosecution to explain how the City of Dreams project was connected to charges his client faced, accusing the prosecution of casting a wide net while hoping to land a catch.
However, DPPs Mohd Akram Abdul Gharib and Wan Shaharuddin Wan Ladin stood their ground and said the prosecution would prove charges against Lim as the case progresses.
The events unfolded as the third prosecution witness, former Penang exco member Datuk Lim Hock Seng, continued with his testimony today.
Lim narrated how the RM6.3 billion undersea tunnel and three main roads project was awarded to Consortium Zenith BUCG (CZBUCG), the processes involved, mode of payments and also role of private consultants engaged to conduct feasibility studies.
He also related how agreements involving the project had been farmed out to private law firms instead of being handled by the State Legal Adviser's (LA) office.
The LA, he said, was actually left out as the state government wanted the agreements to be drafted as quickly as possible.
"That is why the state government decided to get a private firm to draft the preliminary agreement for the project.
"It cost the state government RM75,000 to do it," he said.
DPP Shaharuddin then questioned Lim about the 2011 trip to China where Guan Eng had taken a 10-member delegation for a meeting with CZBUCG representatives.
Lim confirmed that the trip was also fully borne by the state government, before also confirming that a private engineering consultant's firm had been hired for a cost of about RM20 million to oversee the project.
The former Bagan Jermal was asked these questions in response to Guan Eng's claims that the tunnel project would not cost Penang taxpayers anything as the developers would be bearing the full cost of the entire development.
Shaharuddin then zoomed in on the land swap deal which had seen two plots of state land – Lot 702 and Lot 713, being given to the developer to offset the cost of a feasibility study which was done.
Hock Seng confirmed that the Ewein Zenith group, headed by Datuk Ewe Swee Kheng, had undertaken the billion ringgit City of Dreams project on the plot of reclaimed land in Bandar Tanjong Pinang, Penang.
Ewein Zenith is a joint venture vehicle between Ewein Land Sdn Bhd and CZBUCG Sdn Bhd. The freehold 3.67-acre (1.49ha) City of Dreams sits opposite the strategically located Gurney Drive.
The luxury seafront serviced apartment project comprises 572 units in 39-storey twin towers with prices of units ranging upwards of RM1,500 psf.
It was previously reported that the Malaysian Anti Corruption Commission (MACC) had detained top officials from the company as part of its probe into the tunnel project.
The MACC probe was focused on finding out why Guan Eng's administration had pre-sold state land rights worth RM3 billion despite a four-year delay in the construction of roads.
Meanwhile, touching on the City of Dreams issue, Shaharuddin questioned Lim if he knew details of the project:
Shahruddin: Do you know Datuk Ewe?

Lim: I know of him, but I don't know his full name

Shaharuddin: Have you heard of the City of Dreams

Lim: Yes, it was built of Lot 702

Shaharuddin: Do you know how big is the project?

Lim: I don't know how high it is but there are two blocks. I don't know how many storeys though

Shaharuddin: Do you know what was the plot ratio in the preliminary agreement signed by the state government?

Lim: it was 1 to 5

Shaharuddin: Lot 702 is on reclaimed land right?

Lim: Yes

Shaharuddin: If you check your witness statement, you can see what the density of the project is

Lim: 87 units per acre

Shaharuddin: Do you know that the City of Dreams does not follow this density requirement

Lim: I don't know

Shaharuddin: Let me tell you…it has two blocks of multi storey luxury condominium units
It was at this point Gobind stood up to object the prosecution touching on the City Of Dreams project in their questions to the witness.
"They are casting their net far and wide…asking about everything that happened from 2011 to 2018.
"I need to know what exactly they are charging my client with so that I can focus our defence on that," he said.
Judge Azura Alwi later told Gobind to hand in case authorities on his objection before fixing Aug 16 to 20 for continuation of trial.
Guan Eng, who is DAP secretary general, is accused of soliciting a 10 per cent cut in profits from the tunnel project from Consortium Zenith Construction managing director Datuk Zarul Ahmad Mohd Zulkefli.
He is also accused of seeking RM3.3 million in kickbacks to appoint Zarul's company to undertake the project.
He also faces two counts of dishonestly misappropriating RM208.7 million worth of state land to two companies.
URL: https://www.nst.com.my/news/crime-courts/2021/07/708983/city-dreams-nightmare-lim-guan-engs-lawyers