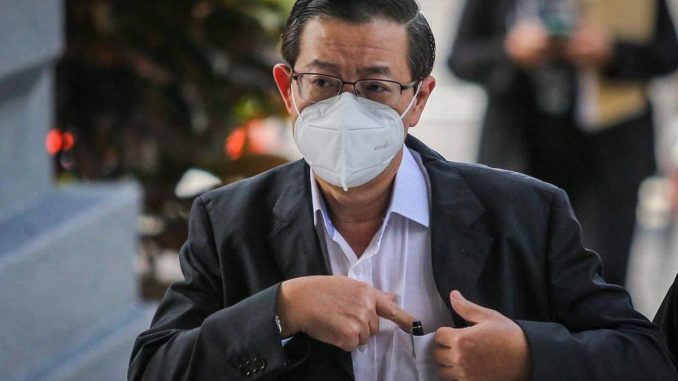 15.7.2021: Witness reveals how Penang tunnel project awarded to CZBUCG
SOURCE: NST ONLINE
By Sharanjit Singh – July 15, 2021 @ 3:16pm
KUALA LUMPUR: A former Penang exco member said the RM6.3 billion Penang undersea tunnel and main roads project was awarded to Consortium Zenith BUCG (CZBUCG) in 2012 after the company obtained the highest rating from two committees which were formed based on Lim Guan Eng's suggestion.
Datuk Lim Hock Seng, who was the then state Public Works, Utilities and Transportation committee chairman, also revealed that state officials had met CZBUCG representatives to discuss preparing a request of proposal (RFP) for the project before the company was eventually selected for it.
The meeting, he revealed, had taken place months before CZBUCG was handed the project.
Reading from a prepared witness statement, he said the two parties had discussed ways to improve the RFP documents on the tunnel and road projects.
Hock Seng said he was not at the meeting but he had yesterday confirmed meeting two of the company directors based on Guan Eng's instructions in early 2011.
The court also heard that the Penang government had actually inked a memorandum of understanding with the company on April 28, 2011.
Continuing with his testimony today, Hock Seng said Guan Eng had suggested two separate committees (technical and finance) be formed to evaluate all requests for proposal (RFPs) for the project.
He said Guan Eng suggested this on March 19, 2012, and it was subsequently agreed upon by all state exco members during a meeting on the same day.
Relating how the project was eventually awarded, he said 60 companies, including 16 foreign ones, attended a pre qualification exercise held by the state on Nov 29, 2011, and Dec 14, 2011.
After the exercise, he said 11 companies submitted their prequalification documents and these were supposed to be evaluated by the Technical and Finance Committee which was chaired by State Financial Officer Datuk Mokhtar Jait.
"This committee was tasked to evaluate and make recommendations on the companies which should join in the RFP.
"However, only eight companies eventually ended up submitting their RFPs for the project," he said.
These included China State Construction Engineering Corporation Ltd & VST Cemerlang Sdn.Bhd., Setia Precast Sdn. Bhd., ECK Construction Sdn. Bhd., Gamuda Berhad, Zambina Wawasan Sdn. Bhd., IJM-CRGL Joint Ventures, Consortium Zenith BUCG Juteras & Sri Tinggi JV and WCT Daewoo Joint Ventures.
Hock Seng said it was then Guan Eng suggested two separate committees – technical and finance – be established to evaluate the RFPs.
"As far as I know, Consortium Zenith BUCG Juteras & Sri Tinggi was eventually recommended as the company met all requirements in their RFP.
"The state government agreed to appoint the company to undertake the project after that because it was given top marks by the committee," he said, noting that CZBUCG was formed following the merger between Zenith BUCG, Juteras and Sri Tinggi during the RFP process.
Hock Seng was testifying in Guan Eng's corruption trial involving the undersea tunnel project.
The DAP secretary general is accused of soliciting a 10 per cent cut in profits from the project from Consortium Zenith Construction managing director Datuk Zarul Ahmad Mohd Zulkefli.
Guan Eng, who is former Finance Minister, is also accused of seeking RM3.3 million in kickbacks to appoint Zarul's company to undertake the project.
He also faces two counts of dishonestly misappropriating RM208.7 million worth of state land to two companies.
The trial continues.
URL: https://www.nst.com.my/news/crime-courts/2021/07/708580/witness-reveals-how-penang-tunnel-project-awarded-czbucg