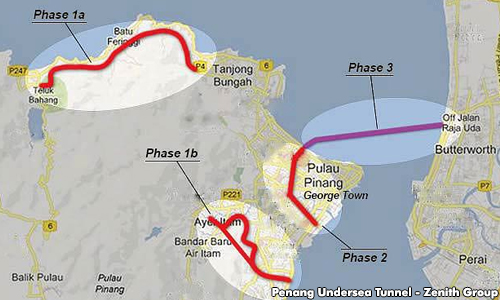 SOURCE: The Vibes | Published on 06 Jan 2021 4:45PM
Official announcement to only be made after signing of Package 2 sub-agreement by state government.
GEORGE TOWN – The Penang government has confirmed that undersea tunnel developer Consortium Zenith Construction Sdn Bhd (CZC) is on an equity restructuring exercise.
Chief Minister Chow Kon Yeow said the state government had been informed of the matter, but an official announcement will only be made on January 15.
"We have been informed that there is equity restructuring ongoing in the company, but the official announcement will only be made after the state government signs the Package 2 sub-agreement with CZC on January 15," he said at a press conference at Komtar today.
Package 2 in the Penang Transport Master Plan (PTMP) involves the construction of three main roads in Penang that connect the Air Itam line on Thean Teik Highway to the Tun Dr Lim Chong Eu Highway.
State Infrastructure and Transport Committee chairman Zairil Khir Johari said the state is aware of negotiations between CZC and various parties, including ECK Development Sdn Bhd.
"However, we can only comment after we receive official notification and verification about the restructuring exercise conducted by CZC.
"The state remains committed to ensure the delivery of the project starting with Package 2 – the Air Itam-Lim Chong Eu bypass – which is scheduled to begin construction on February 1."
Earlier, it was reported that the controversial RM6.3 billion Penang undersea tunnel and roads project has been given new life, with a Kedah-based developer to take over the project through the purchase of majority shares in the company-awarded project.
It is understood that the developer is ECK Development, owned by Tan Sri Khor Eng Chuen.
The Vibes was told that Datuk Zarul Ahmad Mohd Zulkifli is no longer the chief executive officer of CZC.
A CZC staffer said the number one position is now held by Datuk Lee Chee Hoe, who was its senior executive director.
Zarul today told Malaysiakini that he quit the company last December.
Zarul was previously remanded by the Malaysian Anti-Corruption Commission (MACC) in 2018 for the investigation of a case of paying RM19 million to a "Datuk Seri" to stop MACC's action against the CZC project.
PTMP will consist of several components, including the Bayan Lepas LRT, the construction of the Pan Island Link 1, 2, and 2A highways, the North Coast Pair Road, and the undersea tunnel as the third route between the island and the mainland.
It will also involve land reclamation work for three artificial islands in southern Penang that will be used to fund the project.